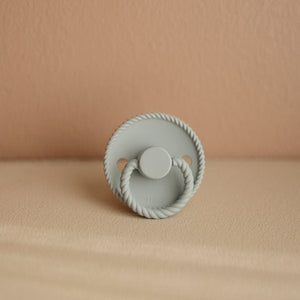 Frigg
Frigg - Rope - French Grey
Regular price
$8.00
$0.00
Unit price
per
FRIGG Rope makes you think of adventures involving strengths, heights, and depths. The rope is an essential item when you are hiking or climbing. It represents the safety and stability when activities become risky or unpredictable. This shows the underlying inspiration behind the design of FRIGG Rope pacifier. 

The inspiration of a rope is clear in the design of the pacifier as a thin rope encircles the shield, and a thicker rope is used as a handle. FRIGG Rope is for both boys and girls who love a great adventure…

FRIGG pacifier details
100% designed in Denmark
100% manufactured in Denmark
For safety reasons each FRIGG pacifier undergoes a diverse range of tests that simulate the stress a pacifier gets exposed to 
With a patented click-lock ® system
Shield materials: Polypropylene (PP)
Safety standard: EN1400 + A2 test
FRIGG latex nipple size 1 details
Nipple material: 100% natural rubber.
Nipple measure: 27 mm
Recommended age: 0-6 months
Care instructions for FRIGG pacifiers:
Place the pacifier in a bowl and pour it with boiling water. Let it soak for 3-5 minutes. Do not submerge for longer than 5 minutes. Remove and place on a flat surface to air dry. Do not use sterilizers, microwaves, or dishwashers. For optimal safety and hygiene, we recommend discarding the pacifier after 1-2 months of consistent use. Always check the pacifier before use, and discard at first signs of damage or wear.
---